Despite a furious comeback from 11 points down that sent the game into overtime, the Martha's Vineyard Regional High School boys basketball squad fell to rival Bishop Stang in a playoff thriller at home Friday evening.
The 93-87 overtime defeat ends the season for the Vineyarders.
"We left it all on the floor," said disappointed senior forward Mike Powers. "I thought we had the game."
Bedeviled early by several traveling calls and fouls in the tightly-called game, the Vineyarders found themselves down by double digits with less than five minutes to go in regulation.
Then came an electrifying rally to tie the game, with the student body rocking Pachico Gym all the way.
"They had the energy," said head coach Michael Joyce. "You could see it go up and up. They did everything you want them to do. They put everything out there."
Stifling half-court defense yielded three steals in the final minutes.
The Vineyarders called a time out with 19 seconds to play and the ball in their possession. The play they drew up in the huddle worked perfectly when junior guard Ricardo Andrade slipped off a pick and had an open 10-foot shot, but it was just short, and the game went into overtime with the score 72-72 at the end of four quarters.
"We had a great shot to win it," Coach Joyce said. "That's all you can ask."
"We had it, they just played really, really well" said Andrade. "They're a good team."
The Vineyard five scored the first basket in overtime, but Bishop Stang started burying three-pointers on the other end of the floor, and prevailed at the end by six points.
Nick Bond led Vineyard scorers with 24 points, followed by Andrade with 22 and Dylan Araujo with 18.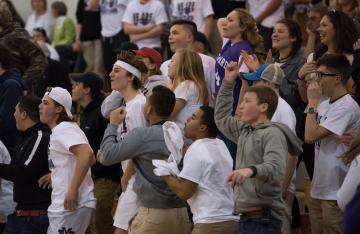 Dijuan Chummack topped the Spartan squad with 26 points, many from beyond the three-point line, while shooting 14 for 14 from the free throw line.
Coach McCarthy thought the playoff match-up was unfortunate.
"I thought we were the two best teams in the South (playoff division)," he said. "Unfortunately we end up playing each other right away."
Powers said he found it difficult to be unhappy with the way the close-knit, senior-dominated team played in their last game together. But he also found room for optimism.
"I told the juniors and sophomores to go get it next year."