Tisbury voters will decide next week whether to add spirits to restaurant menus that already include beer and wine, in a referendum ballot question that has divided the business districts and residential neighborhoods.
Some view the choice to order a scotch and soda as no big deal, while others portray it as another step on a slippery slope toward a town filled with bars and package stores. Up and down Main street, business owners have declared their positions on Question 1 with "Vote Yes" or "Vote No" signs in their windows.
After a town meeting vote last year, (136 for, 63 against) asking the state legislature for a home rule petition enabling the sale of hard alcohol at restaurants, and after the legislature and the governor approved that petition earlier this year, the issue will be back before voters in a binding ballot question in the May 9 election.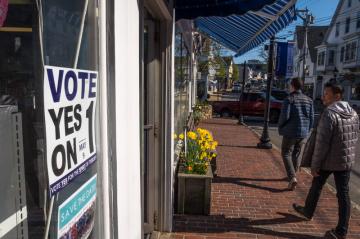 Also on the ballot are races for town clerk and selectmen. Polls are open on May 9 from noon to 8 p.m. at the Emergency Services Building, 215 Spring street, across from the Tisbury School.
Regulations for serving liquor would be the same as current regulations for serving beer and wine. Liquor could only be served with a meal, and only in restaurants, inns or hotels with a dining capacity of 30 or more seats. Selectmen could decide to convert current beer and wine licenses to all-alcohol licenses, and issue new ones. Selectmen could also decide to issue seasonal licenses for establishments that would stay open only in the summer.
Among the other Island towns, Oak Bluffs and Edgartown have no restrictions on alcohol sales other than state regulations for licensed establishments. In recent years, voters in Tisbury, West Tisbury and Aquinnah have authorized beer and wine sales with meals. This spring, Chilmark voters rejected a town meeting warrant article that would have allowed beer and wine sales in that town.
Fashion designer Stina Sayre put up a "No" sign in her Main street store window, next to the full length folded skirts and spring dresses for sale. She acknowledges it is difficult to operate a successful business in a seasonal economy, but she thinks this issue has not yet had a full airing.
"I feel like we haven't had the conversation in town," Mrs. Sayre said. "It's going too fast, the process. People are very misinformed, I feel."
She is concerned that the addition of liquor to restaurant menus will change the crowd that visits Vineyard Haven in the summer.
"I'm concerned about the harbor," said Mrs. Sayre, who comes from a family of avid sailors and sail boarders. "Motorboats and cigarette boats will fly in because we have alcohol in town. We don't have that kind of clientele."
She also feels hard alcohol could lead to bars and packages stores in town.
"Next time they're going to ask for a bar," she said. "I feel like I've got to put my foot down now."
Susan Goldstein, whose family has operated the Mansion House for more than two decades, takes the opposite position. Sitting in her hotel lobby a few feet from the Copper Wok restaurant, she said she doesn't see that much of a change in adding liquor sales.
"It's a non-event," Mrs. Goldstein said. "It's the same amount of glasses, same amount of cleaning, there's just a little bit more choice. As we decide where to put our dining restaurant dollars, any little part that gives restaurants a leg up is appreciated."
She said in 2010, when the town decided to allow beer and wine at restaurants in the second of two hotly-contested referenda, opponents predicted it would change the town's reputation as a safe, quiet, family-friendly place.
"People said children wouldn't be able to ride their bikes into town," Mrs. Goldstein said. "None of those things have come true. Not all change is bad."
Next door to the Mansion House on Main street, Scott Mullin operates Brickyard, a store filled with furniture and home goods. He believes if Question 1 is approved, it will give the town's businesses a lift.
"I'm all for it," said Mr. Mullin, a former Oak Bluffs restaurant owner. "It's just another factor to add a little bit of life for all the other things that need to happen."
Mr. Mullin said the option to order liquor at a restaurant is a small part of improving the business climate. He cited sidewalk improvements and beautification projects in Oak Bluffs and Edgartown as examples of town initiatives that might also help local restaurants compete with establishments in other towns.
"Vineyard Haven fights everything. We're doing what we can to make this a viable option. The town should be stepping in to help us."
Seth Gambino, who owns La Choza, a take-out burrito restaurant on Main street, takes a "No" perspective as both a Main street business owner and a resident who has lived in a nearby neighborhood most of his life. He doesn't see the difference in profit between a glass of wine and a glass of scotch as much of a factor on the bottom line and worries about what might come next.
"The only way this step can make any sense is if they go for bars and package stores later on," Mr. Gambino said.
Mr. Gambino said he has had some sharp exchanges with people who favor Question 1, and he feels it has created a divide among Tisbury residents.
"I think, sadly, yes it has," he said. "I've tried my best not to fall into that. I don't hate anyone who is putting this forward. We have different ways to define success. We have issues we need to address before we change our town this drastically. I hate to see a lot of people's frustration with the stagnation go automatically to let's just change everything."
Mary and Jackson Kenworth live in Vineyard Haven and own Beach Road, a restaurant in the Tisbury Marketplace. Mr. Kenworth said his conversations with friends and neighbors have been respectful. He does not buy the slippery slope argument, that adding spirits to menus will lead to bars and package stores.
"I don't see that happening in my time," Mr. Kenworth said. "That would be a town vote. Our last call is 10 p.m. at Beach Road. It's not going to become a bar scene with the granting of spirits. It doesn't make sense for me to stay open until 12 a.m. and keep a kitchen going to try to sell a vodka tonic or a margarita."
Mr. Kenworth said his restaurant has lost business because people coming from off-Island expect to be able to order liquor as they do at home. His staff makes a point of telling everyone who makes a reservation that only beer and wine sales are allowed in Tisbury.
"We have lost reservations due to that on the moment," Mr. Kenworth said. "People tend to go toward Edgartown. We're just trying to level the playing field."
The Kenworths also own State Road in West Tisbury.
He cites the performance of restaurant owners over the six years that beer and wine sales have been allowed.
"I would like to be able to offer my clientele full service, whether it's a glass of wine or a glass of beer or a vodka tonic," Mr. Kenworth said. "I think it's a good thing. The owners and the management will handle it. There haven't been any issues, nobody's fallen off the pier and drowned. It's on us that we have to take control and be responsible."
Pam and Nat Benjamin live in a residential neighborhood close to Main street, and the couple is concerned about what they call "alcohol creep." Mr. Benjamin operates a wooden boatyard on the waterfront, and Ms. Benjamin runs a children's arts program called Sense of Wonder.
"I just see the whole movement as so disingenuous," Mr. Benjamin said. "Six years ago they petitioned the town to sell beer and wine, all the time promising that was as far as it would go. Well, the camel has got his nose in the tent and he's moving in."
Ms. Benjamin added that she doesn't think liquor sales will help the town's general business climate. She said the retail establishments in Tisbury are having a tough time because of the national trend of online purchasing, the same as many other small towns across the country.
"I think it's sending the wrong message to young people that alcohol is a solution to a problem," Ms. Benjamin said. "I would like to focus on the core strengths of the town. There are so many wonderful things that are happening now, and are going to happen that will be a big draw to Vineyard Haven. It would bring people for the right reasons."
The couple sees the addition of hard alcohol sales as a threat to the character of Tisbury.
"I think the residents need to take control of their destiny, put their foot down and say we like it the way it is," Mr. Benjamin said. "It certainly isn't going to make the town better. How much worse, we don't know, but it won't make it better for living here."