Joan Nathan was peeling shallots. Her hands stayed busy, deftly removing the skin and piling the shiny purplish alliums in a bowl as she chatted.
"They said 40 shallots, but these are big shallots," she said. She was sitting on her balcony in Chilmark on a recent afternoon, with a view that bounded over the tops of trees out to the water and the distant Elizabeth islands. A few people were coming over for dinner that night and the shallots were for a chicken liver dish with a date confit.
Dinner guests are her guinea pigs when she's on the Vineyard. As a James Beard award-winning cookbook author, Joan Nathan is always developing recipes, testing combinations and collecting spices.
Her newest cookbook, King Solomon's Table: A Culinary Exploration of Jewish Cooking from Around the World, is filled with recipes as resplendent as those prepared for the fabled king. Ms. Nathan is a featured author at this year's Cook the Vineyard event, with her Tahina cookies served as the dessert course.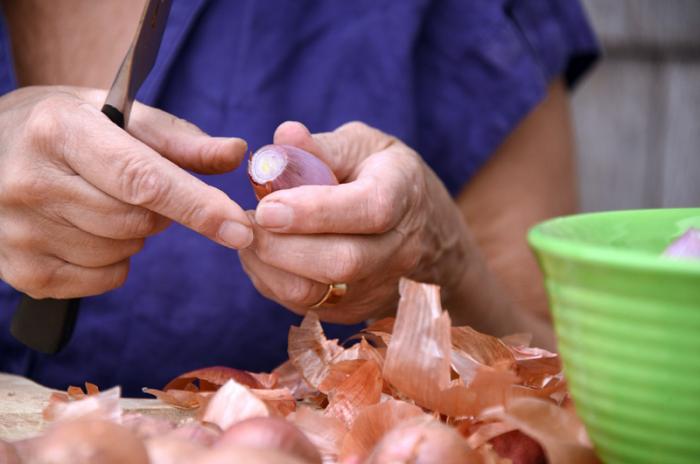 The journey to King Solomon's Table, her 11th cookbook, began as many of her cookbooks do, with traveling. On a family trip to India she stopped at a synagogue, where she saw mention of King Solomon and started to think about trade routes. She thought about how the Jewish people wandered, bringing their recipes and ingredients with them, picking up new recipes and ingredients along the way.
In her research she studied cuneiform tablets, and early system of writing invented by the Sumerians, with 44 recipes for the gods. She thought about Abraham. "He could have lived on Martha's Vineyard, honestly, he was sort of one of these hippy dippy types, that's what I think." Abraham traveled to Canaan from Ur, and brought some of the ingredients with him.
Then she started to think about King Solomon, his love of excess, his wives and mistresses and the offerings of the 12 tribes of Israel.
"He would have gotten new ideas for food from all these women from all these different places," she said. So Ms. Nathan followed King Solomon's example, gathering more than 170 recipes that explore the breadth of Jewish cooking. Recipes in King Solomon's Table are from all over the world, from Israel to Colombia to Cuba and the Vineyard.
While food has always been a main feature in her family, her knowledge of Jewish food and cooking has grown exponentially from her days as a child. She was born in Rhode Island, but her family had a cook from South Carolina when she was a child, who served mostly southern food. In high school, her French tutor would share Egyptian treats with her. Her father, who was from Germany, fostered her curiosity about food.
"He liked good food, but he also liked to talk to waiters, and I just got that love of speaking to people and learning about where the food comes from, from him," she said.
Her early understanding of Jewish cuisine was limited to what was served on the table. "I always thought of Jewish food as roast chicken and challah and matzo ball soup," she said.
Then she visited Jerusalem and fell in love with the city and decided to stay. She found a job with the mayor of Jerusalem, Teddy Kollek, when she was 26 years old, and this opened a whole new world of food to her.
"The way I fell in love with the Vineyard, I fell in love with Jerusalem," she said.
While working in the mayor's office, she noticed that food could break down barriers, something often pointed out today, but revolutionary at the time. She started cooking classes with journalists and co-wrote The Flavor of Jerusalem, her first cookbook.
"And then, what started as a lark, then became a career," she said.
She came back from Jerusalem and worked for the mayor of New York, co-founding the Ninth Avenue Food Festival. Then she went to the Kennedy School at Harvard and started writing for the Boston Globe Magazine. She didn't want to write about food, pitching instead the ethnic groups of Boston. Her editor offered a compromise, the ethnic groups of Boston and their food. She had a beat.
"I keep telling my kids, one thing leads to another, you just do a good job and the opportunities are there," she said. "So that's what I did."
A meeting with Dov Noy, a revered Jewish folklorist, at the Kennedy school propelled her into her next cookbook.
"He said to me, 'I will never write a cookbook, but I know all the folklore of the Jews,'" she said. "He said, 'if you promise that you'll write a cookbook, I'll let you know about the folklore.'"
Ms. Nathan went looking for a publisher and met with Judith Jones, the editor for Julia Child's cookbook, who asked her to write an American cookbook instead of a Jewish cookbook.
"I was young, and said, that's not what I want to do, not realizing that she was like the great lady," remembered Ms. Nathan. "I just knew, like all of you young people, you know what you're going to do and you're going to do it then. That's it."
So she found another publisher and wrote Jewish Holiday Kitchen, which has been in print since 1979.
Ms. Nathan satiates her reporter's curiosity by researching her cookbooks. For Jewish Holiday Kitchen she traveled the world to learn about Jewish cooking from the people who were making the dishes every day.
"This one woman had no children and I spent days and days with her," Ms. Nathan remembered. "I think she'd be very happy to know that her recipes, exactly the way she did them because they were really good, are living on for other generations."
After collecting recipes, Ms. Nathan returns to her kitchen, cooks the meals the way she learned and then develops them, serving the food to guests and family, tapering the fattiness or the sweetness to her own tastes and creating something a home cook could easily follow.
"I just came back from Europe where the best meals that I had were not in restaurants, I didn't think. They were good cooks cooking at home and with really good ingredients, which is what we do on Martha's Vineyard, by the way."
For the dinner she was hosting that night, Ms. Nathan created a cilantro pesto from King Solomon's Table, (recipe found on page 63). She gathered the herbs from her garden and pulsed them together with oil, garlic and fresh za'atar brought back from her recent trip to Germany, Israel and Copenhagen.
As Ms. Nathan travels, she constantly collects souvenirs. But instead of snow globes and postcards, she brings back recipes and spices.
"From a really early age I always wandered into peoples' kitchens and found out what they were cooking, and that's what I'm still doing."
Joan Nathan will speak on Saturday at 9 a.m. at the Harbor View Hotel, and on Sunday at 12:30 p.m. at the Chilmark Community Center.