Flipping through the glossy pages of a cookbook can be a wonderful escape. Then it's time to make dinner and reality sets in.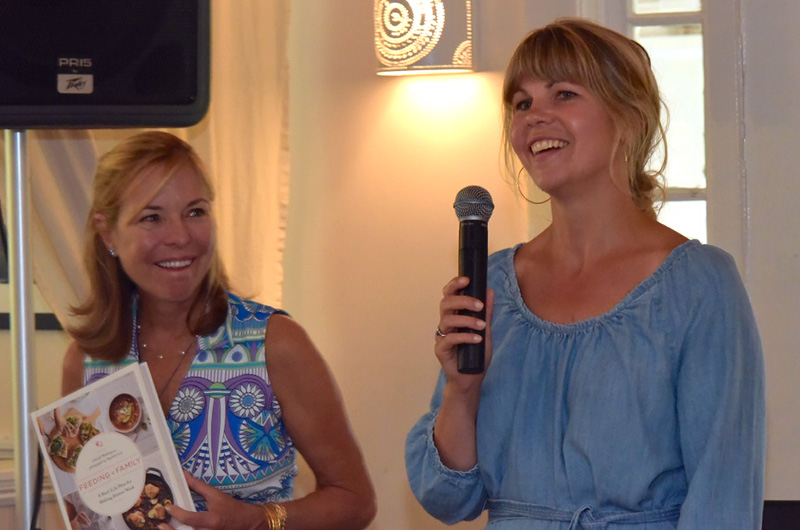 Five Island cookbook authors and three photographers who anchored the Martha's Vineyard Magazine's fourth annual Cook the Vineyard offered strategies for how to avoid yet another night of pre-marinated chicken kabobs.
About 120 guests filled the dining room at Lola's Monday for a five-course luncheon and discussion moderated by Sissy Biggers. Experts shared their secrets to preparing artful food at home any night of the week.
Take homemade stock, for instance.
"You can put a chicken in a pot. And you can put some carrots and onion and celery, bay leaf, and peppercorn, and almost cover it with water, and walk away and watch a movie, have a phone call, read your book, and then you have stock. That's how involved it is," said Kathy Gunst, the author of Soup Swap.
She suggested collecting vegetable scraps over the course of the week to use for stock. A turkey or chicken carcass also makes a nice base, Ms. Gunst said.
The concept for her book provides another solution to the dinner rut — hosting a soup party where each guest brings enough to send home with others as leftovers.
"Cook once, eat ten times. Do the math. It's wonderful," Ms. Gunst said.
Sarah Waldman wrote her cookbook Feeding a Family to help answer two familiar questions for parents of young children: "What are you making for dinner? What will they eat?"
The entrée at the luncheon — flounder with pink salad — was prepared from her book. Ms. Waldman's mother in law taught her the technique, which she would prepare as a low-stress main course for summer gatherings.
The fish was baked with a thin coating of mustard and panko bread crumbs. The pink salad served alongside was composed of watermelon, feta, hazelnuts and mint. "It's identifiable," Ms. Waldman said, so it appeals to kids. "But it doesn't feel like I'm eating kids' food for dinner."
Photographer Elizabeth Cecil said that as they shot the book they worked around Ms. Waldman's kids' schedules, and sometimes brought the children into the kitchen. "It was just a lot of fun, it was very real," she said.
Susie Middleton's Simple Green Suppers is full of strategies for making daily vegetarian dinners.
"I actually really eat this way," Ms. Middleton said as guests crunched on avocado toast.
Ms. Middleton became a vegetarian four years ago. Among other things, her book emphasizes the importance of stocking the pantry and getting organized.
"When I come home with my fresh vegetables, I have my chickpeas or rice already cooked, a little bit of vinaigrette made, and I have a really delicious salad," she said.
But Jessica Harris, the renowned author and food historian who was a featured speaker, jousted lightly with Ms. Middleton.
"Susie, I love you wildly, madly, but I'm never going to be a vegetarian," she said. "On my tombstone it's going to say Butter and Swine.'"
Ms. Harris read from her memoir My Soul Looks Back and reminisced about her friendship with Maya Angelou, as guests enjoyed one of Ms. Angelou's recipes, a traditional braised kale served at New Year's Day parties.
Ms. Harris also engaged in a bit of culinary repartee with Joan Nathan as they explored the history of the spice cubeb.
"There's nothing new under the sun," Ms. Nathan said, noting that ancient ingredients such as cubeb and chickpea flour have become popular again in cooking.
As the authors and photographers broke down the mystique around the art of food, the lunch itself served as a testament to their comments.
Kathy Domitrovich, owner of Lola's, oversaw all the food preparation for the event. "I wanted my heart to go back into the food," she said, adding: "I'm glad this event is called Cook the Vineyard, because I've always considered myself a cook, not a chef."