In generations past, ships traveling from Europe brought more than just their intended cargo to North America. In the straw that was used as packing material and animal bedding, the ships often unknowingly transported native plants, including perhaps an unassuming little plant called Carex disticha, or Brown sedge, native to Northern and Western Europe.
Two locations of Carex disticha have been found in Canada along the St. Lawrence river. A third location, the first in the United States, was recently discovered on Martha's Vineyard.
Amateur botanists and volunteers at the Polly Hill Arboretum, Gregory Palermo and Margaret Curtin discovered the plant in June of 2016 on the shore of Sengekontacket Pond in Edgartown. Sedge expert Anton Reznicek of the University of Michigan assisted the field botanists in their identification while visiting the Island to teach a class on sedges. A report on the plant and its discovery on the Vineyard was written by Mr. Palermo, Ms. Curtin and Mr. Reznicek and published this August in the scientific journal Rhodora.
The sedge, which is noted for its brownish inflorescence composed of round female spikes and shorter male spikes, almost wasn't discovered here at all.
In preparation for Mr. Reznicek's visit to the Island last summer, Mr. Palermo and Ms. Curtin scoured the Island for sedge hot-spots to which Mr. Reznicek could bring his students. Tea Lane in Chilmark is home to a variety of sedges. Lake Tashmoo in Vineyard Haven is also prime real estate. But the Sengekontacket site was lower on the list and Mr. Reznicek's class ended before he could visit it with his students.
"But the guy is a plant nut," Mr. Palermo said. "After the class was over he wanted to go looking around for more."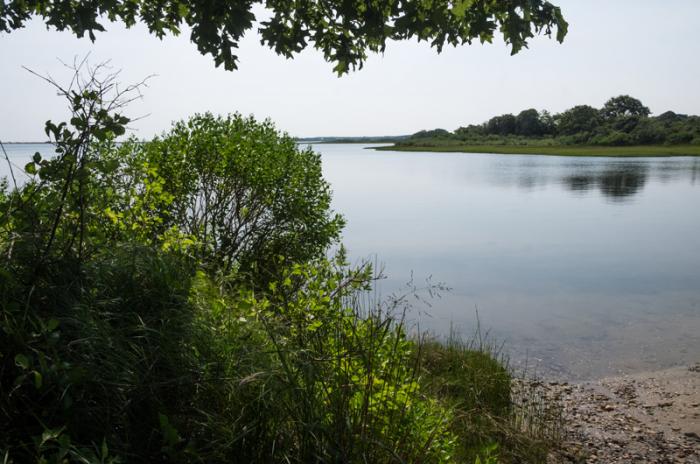 Earlier this week, Mr. Palermo and Ms. Curtin retraced their steps to the discovery site of Carex disticha in the Felix Neck Wildlife Sanctuary. The two mild-mannered nature enthusiasts couldn't fully contain their excitement. Past the rack of boats, beside the well-trodden path to the lake, was a large swath of the plant rippling in the breeze. The area was in fact filled with the sedge.
Ms. Curtin held up one bobbing head, a shriveled-looking brown spike on a long, thin stem. "It's not a very charismatic plant," she said.
"We expressed our theory to him that maybe this was a sedge damaged by salt," said Mr. Palermo of the shrunken-looking flower.
But Mr. Reznicek knew it wasn't damaged. "He said, 'I think you've got something interesting here.' He recognized it almost immediately," recounted Mr. Palermo.
Mr. Reznicek had written a paper about the exact species in the 1980s.
"It was all pretty serendipitous," said Ms. Curtin.
The plant colony is believed to be self-sterile and therefore will not propagate. But specimens have been collected and are housed at the Polly Hill Arboretum's herbarium. Mr. Palermo and Ms. Curtin have contributed specimens from about 400 species to the collection with the goal of cataloging every plant species, native and exotic, currently growing on Martha's Vineyard. This catalogue was last completed in 1999 and things have clearly changed.
Mr. Palermo says he sees new exotic, and sometimes invasive, plants here all the time. Another recent finding called Cyperus iria is listed in a book called World's Worst Weeds, he said. "It got here somehow, in garden soil, maybe. It came in on a root ball in a nursery and it spread to the ground in the nursery."
"Exotic plants are getting here," he added. "We should be worried about it."
To cope with the changes, the botanists must first understand what is here, which can be difficult for many reasons, including not having access to many areas around the Island.
"The way people can help with this project is by allowing us access to their private property," Mr. Palermo said. He recounted how he saw a rare type of Dogbane growing on the side of the road by a housing complex last year. He made a mental note to return to the plant in the fall to collect seeds. But when he returned the plant had been mowed over. "And then, last week, I saw that they had planted privet in its place," he said.
This type of destruction likely happens often, without anyone ever knowing it, said the researchers.
"We'd love to get the word out that we're interested in looking at the wild plants in people's yards," said Mr. Palermo.
"Especially wetlands," said Ms. Curtin, who explained that aquatic plants are part of their project.
Mr. Palermo said he was drawn to this project as a way to help provide a foundation for further research into the Island ecosystem. Finding the first known location of the Carex disticha is an exciting bonus.
"This tells me that if people look, they're going to find interesting plants right under their noses," Mr. Palermo said.
To request a visit by Mr. Palermo and Ms. Curtin to view wild plants growing on a property, contact Tim Boland, director of Polly Hill Arboretum at info@pollyhillarboretum.org.