The opening reception for Eyes of the Island, a first-of-its-kind group exhibition featuring award-winning photographs from the Vineyard Gazette, was so well attended and convivial that many in the crowd will likely be returning for a closer look at the show over the next three weeks.
An estimated 400 people — nearly all of them Islanders — flowed through and around the new Francine Kelly Gallery at Featherstone Center for the Arts in Oak Bluffs Sunday afternoon. At more than one point during the two-hour wine and cheese reception, it was easier to go outside and re-enter by another door than to move through the gallery from one end to the other.
As a community gathering, it was a tremendous success. But parties are seldom the best time to fully take in an exhibition of this magnitude.
With 150 photographs covering more than a half-century of Martha's Vineyard history, Eyes of the Island is an absorbing show that rewards repeated visits. Even when the same images can be viewed on page and screen — and many of these are from pre-digital archives — there's a sense of immediacy in seeing them on the gallery walls.
Long-ago events live again in the Gazette photos. There's Ted Kennedy's car being winched out of Poucha Pond in July, 1969. Firefighters douse Peter Norton's landmark house on Ocean Park during a February gale in 1991, quell the Main Street fire in Vineyard Haven in July, 2008 and battle the blazing Coast Guard boathouse in Menemsha two years later. Comets streak through Vineyard skies and Venus crosses the moon.
When lighthouses moved — Cape Pogue in 1997, Gay Head in 2015 — Gazette photographers were there. Photojournalists took to the air to shoot events like the December, 1976 Argo Merchant oil spill in Nantucket Sound, the grounding of the Islander in Oak Bluffs in 1980 and the same ferry's last run in 2007. They've gone to sea, and even aloft on vessels.
News photography wasn't a major element of the newspaper until the 1970s, when improved technology and new owners enabled the focus on Island images that remains a Gazette hallmark to this day.
Portraits have a longer history on the Gazette's broad pages, with more than 30 faces in the show. An imperious Lillian Hellman and an ax-wielding Trina Kingsbury were both captured in 1981 by Alison Shaw, who also shot farmer Ozzie Fischer, writer Art Buchwald and newsman Walter Cronkite with his arms full of kittens.
Alfred Eisenstaedt is represented with two very different double portraits: longtime editor Henry Beetle Hough, with his wife Elizabeth Bowie Hough, posing for the camera in 1952 and painter Thomas Hart Benton, with his son Thomas, pausing from outdoor labors just long enough for the shutter to snap.
The Gazette has won so many photojournalism awards that the show's curators — publisher Jane Seagrave, art director Steve Durkee, editor Julia Wells and librarian Hilary Wall — had hundreds of prizewinning images to choose from, far more than would fit into the spacious new gallery at Featherstone.
Widening the scope further, they also invited 11 photographers who contribute regularly to the Gazette to choose from their own work, with each given a mini-show inside the larger exhibition. The result is less like a traditional group show and more like visiting a museum of Island news and art. In addition to Ms. Shaw, the photographers contributing individual work are Ray Ewing, Albert O. Fischer, Timothy Johnson, Mark Alan Lovewell, Alison L. Mead, Steve Myrick, Lanny McDowell, Jeanna Shepard, Peter Simon and Maria Thibodeau.
The idea for an exhibition of Gazette photography came from Featherstone board member Michael Cohen, who contacted Ms. Seagrave over the summer to suggest it. She and Featherstone director Ann Smith quickly worked out the details. It took gallery manager Kate Hancock and Featherstone board member Pam Flam four days to hang all the work.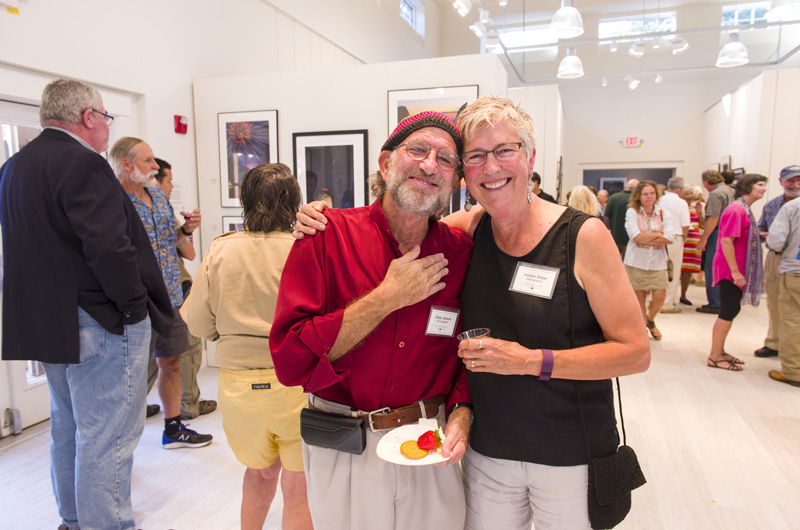 "I was afraid we would run out of hooks," said a relieved Ms. Hancock. "We had four left over. We will be ordering more."
Eyes of the Island is open from noon to 4 p.m. daily, with free admission. While at the exhibition, visitors are invited to vote for their favorite photographs in a number of categories, and potentially win a free one-year subscription to the Vineyard Gazette. To vote online after seeing the show, visit bit.ly/eyesoftheisland.
On Tuesday, Oct. 10, the Gazette's Tuesdays in the Newsroom series will move to Featherstone for a special event called How I Took That Shot. Photographers whose work is featured in the Eyes of the Island Show will share their stories behind some of the photos in the show. The event will be held from 5:30 p.m. to 7 p.m.