In my old life (or one of my old lives), there was an annual culinary conference I attended, each year in a different city — New Orleans, Chicago, Seattle, Los Angeles. The weeks and days leading up to it were exciting — anticipating what events I'd attend (all the ones that involved sipping or tasting, of course), researching the hot local restaurants, and checking out the host hotel and the neighborhood around it. Oh, and figuring out what to pack (there was a gala involved). I couldn't wait to get there.
This week when I went to visit the Harbor View Hotel to learn more about the Martha's Vineyard Food and Wine Festival (which begins Thursday, Oct. 19), I felt a familiar tinge of adrenaline as I walked through the lobby. By the time I left, I must admit, I felt kind of exhilarated. I realized what has probably been obvious to the rest of you: We have a first-class culinary and viticultural (sorry, I thought that was better than oenophile-ic) event right here — no ferry tickets or overstuffed luggage required. Unless of course you're coming from Boston or farther afield, which many smart people are. The Harbor View is nearly sold out for the weekend.
But think about it — unlike my culinary conference, which required a hefty fee to cover the whole event — the Food and Wine Festival (the 10th annual) offers more than 20 events, nearly double the number of last year, each with tickets available for individual purchase. So say you'd like to go to the Woodford Reserve Bourbon Tasting on Sunday morning (and who wouldn't?) or you'd like to take the Italian Salumi & Specialties Culture 101 seminar on Friday afternoon (yes), you just go online and purchase tickets. Ticket prices are reasonable: those two events are $50 and $40 respectively. Sadly, a few are sold out. I'm mourning my chance to witness Lobsterpalooza, but I'm looking forward to the opening night event, Fresh Off the Farm, and the Grand Tasting (which will offer 300 different sips and tastes). And there are seats at the table still available for many of the signature dinner events; if you're a serious foodie you'll want to consider your options. I met with Richard Doucette, executive chef of the Harbor View, to get a sneak peek at two menus, and with Elizabeth Rothwell, who is both the regional director of marketing for Scout Hotels and a member of the Edgartown Board of Trade. Elizabeth explained that the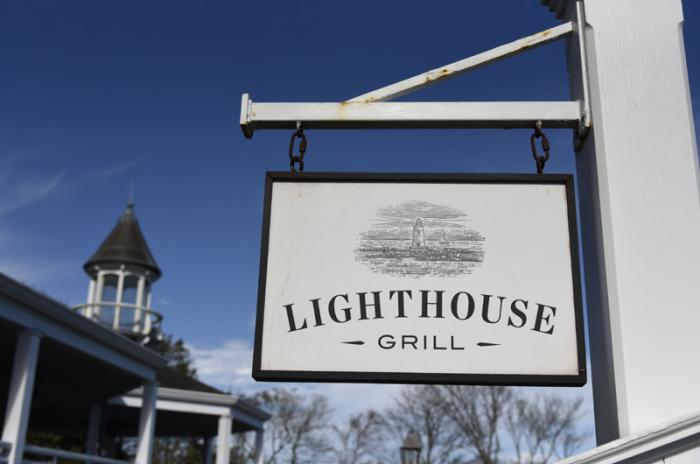 Harbor View is the defacto campus for the festival, with many events, including the Somm Throwdown, Shells & Sake, a Riesling tasting with Jean Trimbach, and the Grand Tasting, held right at the hotel. Two of the most exciting are Chef Richard's dinners.
Richard, who spent 10 years in Boston cooking in both big hotels (Mandarin Oriental, Taj) and smaller restaurants (Tavern Road in Fort Point, Biltmore & Main in Reading) before coming to the Harbor View in spring of 2016, oversees the Lighthouse Grill and Henry's, as well as North 41°— and room service, banquets, and weddings — in season. After a busy summer, he is understandably excited about the opportunity to do something a little different.
"I love the festival events. It's nice to do something fresh, especially after a long season. It's great for creativity, and it's great to have some different faces around the kitchen," he said.
He's looking forward to working with two guest chefs for his dinners Friday and Saturday night. But before they even start cooking, the chefs will have a chance to get to know each other a little bit this year, thanks to a suggestion Richard made to the festival committee last year.
"Last year, it was like, 'Hi, how are you? Nice to meet you. Now let's get to work,'" Richard said. "I suggested we go on a fishing charter together the day before the festival begins this year." So on Thursday they'll be heading out of Oak Bluffs on The Skipper. (I will be a stowaway.)
On Friday, Richard and Boston Chef Jeremy Sewall of Island Creek Oyster Bar, Row 34 and Les Sablons will team up on an Island-inspired menu with Argentine influences, to be paired with Argentine wines. The tasting menu includes local (Spearpoint) oysters, chipas (Argentine cheese bread), humitas (a corn, piquillo pepper, and goat cheese tamale), pork osso bucco served over locro (a colorful stew of pumpkin, corn, baby butter beans and house-made chorizo), and lobster tortellini with brown butter cauliflower and wild mushrooms. The dessert — a collaboration with pastry chef Emily Gobbi — is a caramelized butternut flan with Yerba Mate sorbet, concord grapes, a tuile of red quinoa and spearmint jam.
Saturday night's dinner is one of three festival events showcasing the world renowned wines of Jean Trimbach of Maison Trimbach in Alsace. Richard will be cooking with Boston chef Mary Dumont of Harvest and the hot new Cultivar, and they've brainstormed an impressive tasting menu to pair with the Trimbach wines. The menu includes bretzels (Alsation pretzels); a course of hamachi crudo with Kaffir lime, mint and cilantro; a course of foie gras torchon with Satsuma plums (marinated in warm spices like star anise and ginger), cipollini onion jam, and a crumbled almond sablé for texture; and a course of seared diver scallops that picks up on both the flower notes and bright acidity of Alsatian Gewurztraminer with elderflower honey, grapefruit, black tea and fennel working together.
"Tasting dinners are great," Richard said. "With a traditional menu, you're bound by what people expect — starch, veg, sauce. But on a tasting menu, you've got a lot more freedom. You can kind of throw out the rulebook, which is nice for a change."
Chefs gone wild. If you're up for some rule-breaking cuisine, hang out at the Harbor View — or reserve your seat for one of the other special wine dinners with chefs Kevin Crowell of Détente, Michael Brisson of l'etoile, Justin Melnick of The Terrace, private chef Gavin Smith, and many other visiting chefs from around New England.
Either way, plan to reserve your tickets at mvfoodandwine.com now.