The line spilled out the door at the Edgartown Dairy Queen Thursday afternoon as crowds of squealing students celebrated the reopening of the beloved Island franchise with free ice cream cones.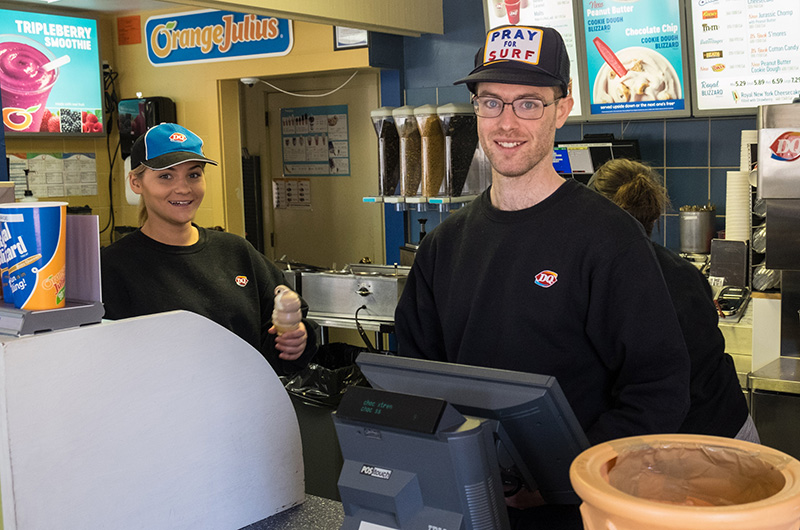 For Max Celeste, the new owner/manager, it marked his first opening day at DQ. He said it was a bit like jumping into a fire with just the ice creams to keep him cool. He completed management training a week ago, so opening day would be a bit of a stress test for the new equipment and redone floor, not to mention Max himself.
"I knew today would be kind of overwhelming," he said from behind the counter while taking orders. "It's going smooth so far."
Mr. Celeste, whose family owns Rosewater Market and Rosewater Wine and Spirits in the heart of downtown Edgartown, bought the Dairy Queen from Antone (Tony) and Erika Bettencourt early last summer. The Bettencourts had owned the business for 23 years.
At 27, Mr. Celeste doesn't see himself as a typical franchise manager.
"If you would have asked me what I would be doing at 27 in high school, I wouldn't have expected it to be running a franchise," he said. "I really only feel like a franchise when I'm putting up posters. It's part of the Island community."
The Edgartown DQ has a storied history on the Island dating back to 1967 when the first location opened across Upper Main street from the current one. Owner Richard Brown had just moved to the Vineyard and wanted to start a family business. Mr. Brown and his wfe Carolyn built and operated the original DQ. The couple sold it in 1983.
Ten years later, Tony and Erika Bettencourt took ownership of the franchise and moved it across the street.
The Bettencourt family sent flowers to Max Celeste on opening day. Daughters Annie and Megan Bettencourt have worked at for several years helping craft the famous blizzards treats and cherry-dipped cones.
"It still feels like a family business. It has that relaxed family feel," Annie Bettencourt said.
Kasey Varkonda, a student at the Martha's Vineyard Regional High School, was the first student through the door, before school had let out. She explained that she was early because she had an orthodontist appointment that afternoon. Her mother Jane drove her over.
"Pretty good timing because after the appointment she'll only be able to eat ice cream," Mrs. Varkonda said.
The real rush began at 2:40 p.m. when Island elementary schools let out. Some kids got rides from their parents. Edgartown School kids sprinted the three quarters of a mile from their school on the sunny but chilly spring afternoon.
Luiz Lacerda, a fourth grader at the Edgartown School, said he daydreamed about his first cookie dough blizzard of the season.
"I couldn't wait to get out," he said. "Every two minutes I looked at the clock."
There was general consensus among customers that opening day at DQ should be an Island holiday.
For Charlotte Cramer, a second grader at the Oak Bluffs School, the Oreo blizzard was well worth the long winter wait. She said there was only one way to express how she felt.
"Yippee, it's DQ day!"