What is it about a wooden boat. What is it about a bunch of planks caulked together with pleasing lines into a vessel that moves with the wind that binds together the people who sail her.
Perhaps the best and worst way to find out is to lose one.
Eight years ago, the schooner Valora broke loose in a vicious August storm and smashed against the Vineyard Haven breakwater. Valora was gone; the only tangible things left were a few pieces of her hardware scattered along the shoreline.
Karl Frey, a real estate entrepreneur who owns a home in Vineyard Haven, was her owner. He acted more like a caretaker than an owner, making sure the people who spent time aboard Valora felt a part of her, and making sure the Vineyard Haven waterfront shared in her mystique.
David Stimson built Valora. Lu Yoder sailed her.
Losing the schooner was a gut punch so devastating that it brought men to their knees in tears.
"You can't live that down," Mr. Frey said. "We'll never forget about it. It always catches your heart. That boat had more friends than I did."
They lost a boat that day, but the tragedy didn't put a dent in their bond. If anything it made it stronger.
This summer on one of the last days of June, a long, low schooner rounded West Chop in a light breeze and headed into Vineyard Haven Harbor. Forty-three feet of shimmering white hull, a distinctive Silverton rig (Marconi mainsail, gaff-rigged foresail, and jib), with burgees flying.
Aboard were Karl Frey, David Stimpson and Lu Yoder. The schooner payed homage in a dip under the stern of Shenandoah, where Mr. Frey served as a deck hand 40 years ago, then nosed up on the beach at the Gannon & Benjamin Marine Railway, where Mr. Frey and Mr. Stimpson built their first boat nearly as long ago.
Valora was home.
"That was a terrific homecoming," Mr. Frey said. "Through the efforts of a lot people, Vineyard Haven has one of the finest collections of wooden boats in New England. To be fortunate enough to add one to that collection, let's enjoy it."
And enjoy it they did, with two coolers full of cold beer, congratulations all around from old friends, and a monstrous order of fried everything from the Net Result, devoured as the sun set over the other wooden boats in the harbor.
The new Valora, informally dubbed V-1, is similar in layout but radically different in hull design. She draws less than four feet with the center board up, with a sparse forefoot, designed to sail in shallow water and even ground herself on a sandy beach. She has few creature comforts below, but can accommodate a dozen people comfortably on deck.
"She sails like a dream, she's an ox," Mr. Frey said. "She's strong and powerful. We put her to the test yesterday, it was blowing 18 to 20 knots, with a washing machine type of sea, cross currents and funky waves in a thunderstorm. We had a double reef in the main, full foresail, full jib, and she just sailed strong."
Lu Yoder is often at the helm of Valora. He knew how the old boat felt under sail, and was pleasantly surprised at how the new boat handled on her way to the Island.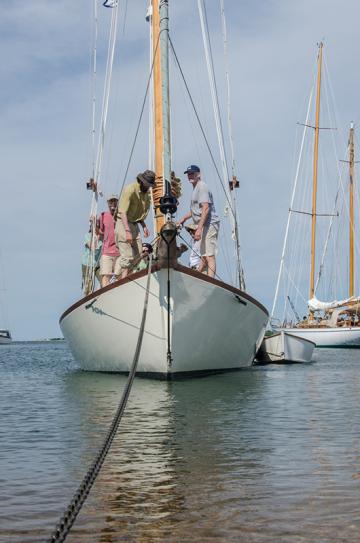 "I fully anticipated a boat that was going to be tender and need to be carefully sailed in rough weather," Mr. Yoder said. "I was just amazed. The boat is so stable and seakindly. I love being here, I love the Vineyard, and I'm glad that Karl and David are getting a chance to show off this boat."
It took Mr. Stimpson five years to build V-1 at his shop in Boothbay, Me., fitting it in around other projects. His son Nathaniel collaborated to a degree that engendered a quiet pride in Mr. Stimpson.
"We had a rough model in the vice," Mr. Stimpson said. "I would work on the bow for a while and he would work on the stern. Then we would switch places. We ended up designing the lines of the boat by carving the model together. I think we designed a better boat and better looking than what either one of us would have come up with on our own."
Nathaniel did most of the complex design calculations to form the displacement, sail balance and more. They weren't looking to win races, but they did have a specific use in mind.
"Just dinking about Vineyard Sound, with a boatload of people," said Nathaniel Stimpson.
Their pride is more than justified. On her way to Martha's Vineyard, after a week of racing in Oyster Bay, N.Y., the crew stopped in Mystic, Conn., for the annual New England Wooden Boat Show.
They left with the Concours d'Elegance, a cup symbolic of best in show for professionally built wooden boats.
"I said Karl don't get your hopes up, because we have some pretty shiny varnish to go up against," said David Stimpson. "But evidently, varnish, in the eyes of judges is not everything. We like to build boats that have beautiful lines, and sail well and are comfortable, and can stand on their own without all that shiny stuff. I wasn't really expecting a cup, but I was really thrilled."
When the original Valora was destroyed in the 2010 storm, a few pieces of her hardware were salvaged from the wreck and from pieces blown ashore. At first they were cruel reminders of a grave ending. Now some of the salvaged portholes and fairleads are part of the new boat.
"There will be no replacement for Valora, but that boat lives on in this boat," Mr. Frey said. "There are a number of pieces of Valora on this boat. And there's all the DNA."