A contested Democratic primary race for the county clerk of courts seat has been heating up all summer and is now set to be decided in another week. The state primary is Tuesday, Sept. 4, the day after Labor Day.
Longtime superior court clerk Joseph E. Sollitto Jr. is retiring this year after 42 years on the job. Two Island attorneys — T. George Davis and Charlie Morano — are vying for the right to run in November on the Democratic ticket. There are no Republicans running in the primary.
The clerk of courts runs the administrative side of Dukes County superior court, administers the jury system and serves as an assistant clerk-magistrate of the district court and also the county parking clerk, among other duties. The term runs for six years. The job pays $159,000.
In interviews with the Gazette this week, both candidates spoke briefly about the issues and pitched their qualifications for the job.
•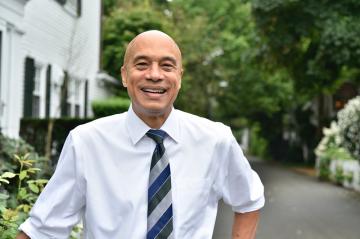 Mr. Davis, 64, lives in Oak Bluffs and has practiced law on the Island for 20 years after holding a position in a corporate law firm in Washington, D.C. The bulk of his work has been in civil litigation. He is a graduate of John Hopkins University, and Georgetown University Law Center. Also an accomplished musician, he studied at the Berklee College of Music.
"Joe Sollitto is retiring and I think I am the best candidate, with the best qualifications to succeed him. He's very dedicated. I would like to continue to build upon that," Mr. Davis said.
He said he sees his experience as an attorney as a key qualification for the job.
"Experience is important," Mr. Davis said. "I've been a civil litigator for over 30 years. Eighty to 85 per cent of the cases that go through the superior court are civil cases, not criminal cases. That's a key component."
He also said his experience in the Vineyard community has taught him things that would carry over into elected office.
"I was with (Martha's Vineyard) Community Services for nine years on the board," he said. "I was with MV Youth. I've been involved with the Edey Foundation, which is involved in environmental interests. I've learned something from every experience. It gives me a broader perspective about how to serve the people of Martha's Vineyard."
Mr. Davis said he would be an advocate for some new court services, including more mediation.
"One thing we do not do here on Martha's Vineyard that's done in a lot of other counties, for civil cases, there is a mediation option. It's an effective, cheaper way to resolve cases. The parties like it, the judges like it, and helps with the efficiencies of the court."
•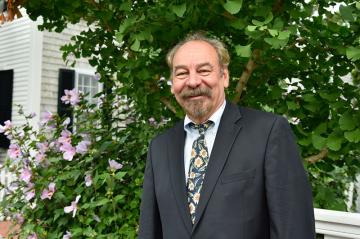 Charlie Morano, 68, lives in Edgartown and began his career as an assistant Cape and Island district attorney. He held that position for 12 years, the last two of which were exclusively on the Vineyard. He has practiced privately for the past 27 years, serving as supervising attorney for the Committee for Public Counsel Services, the public defender for clients unable to afford an attorney. He is a graduate of Boston College and New England School of Law.
"It's a key role in the judicial system," Mr. Morano said of the clerk of courts job. "I have a lot of respect for the system. When Joe announced he was going to retire, I decided it would be a
good position to try and fill. He's done a great job and I think his legacy should be continued. I think I can do that based on my considerable experience being in that building."
Mr. Morano said he would bring deep understanding the Dukes County court system to the job.
"You've got to treat everyone with respect, treat everyone equally," Mr. Morano said. "I know all the players in the courthouse. There's one courtroom with four courts that sit in it, you've got to coordinate all that."
He also said he would take a public stance on a few issues.
"It's also a bully pulpit for certain problems on the Island which I think I can tap into," he said of the position. "Things like the opioid situation, domestic violence. I've been involved in a lot of the discussions about those things, and I would continue to do that and try and use the position as a bit of a bully pulpit to advocate for resources," Mr. Morano said.