A huge holiday crowd of kids wearing red antlers and parents sipping hot cocoa filled Post Office Square Wednesday evening for the annual Oak Bluffs tree lighting. Oak Bluffs music teacher Brian Weiland led everyone in Christmas carols, strumming his brightly lit guitar, and the Dunkl siblings joined in with the Vineyard Brass Ensemble.
Organizer Christine Todd said that the annual event has become so popular she ran out of the 288 antlers she brought in just a few minutes.
"I love that it's not only the children wearing them," she said as she passed out the antlers to revelers of all ages. "This is an event for our community and every year it gets bigger and bigger. It's just a special night."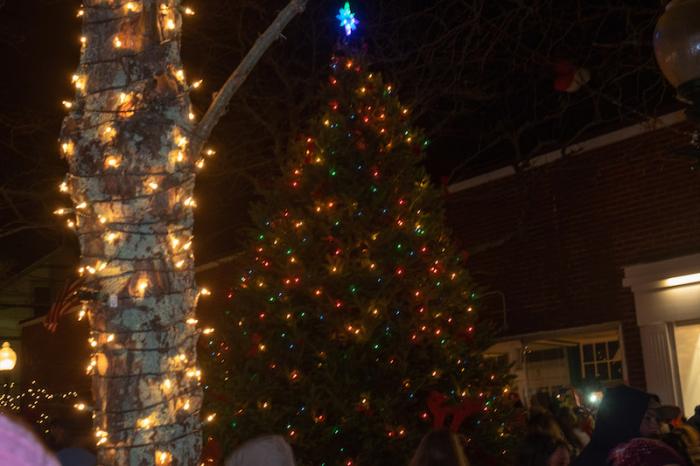 "I can't believe how much it's grown over the years," added fellow organizer and tree lighting originator Renee Balter.
Kate Low said she and her dog Gumbo Shrimp stumbled upon the event for the first time. "I had no idea this was going on," she said. "I just took the dog for a walk and followed the Christmas music."
Gift baskets set outside the post office quickly filled up with non-perishable food donations for the Island Food Pantry, and loud cheers went up once the tree was lit, with hundreds of red and green lights and a bright star at its crown. Minutes later, the blaring of a fire truck caused a rush to Kennebec avenue as Saint Nicholas arrived in style, with Mr. Weiland leading the group in Santa Claus Is Coming to Town.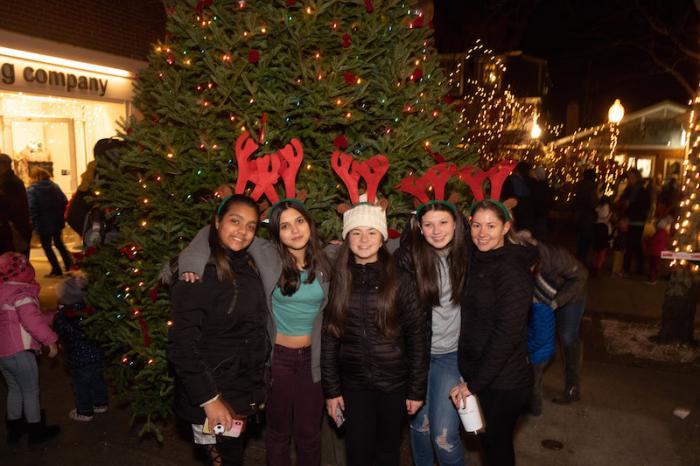 "Santa's coming for real!" yelled out four-year-old Frances Hunsaker.
As Santa emerged from his red truck sleigh, the children waited eagerly in line to get a photo and tell him what they wanted for Christmas.
"I gave him a high-five," said three-year-old Porter McMahon, dressed in a Christmas sweater adorned with lights. He said he wanted a rocket this year.
Gumbo Shrimp would not be so lucky with his Christmas wishes. "He has everything," Ms. Low said. "He's so spoiled."