Hundreds of Islanders streamed through the Art Barn at Featherstone Center for the Arts Sunday afternoon, at a reception celebrating both Featherstone's 2019 opening and the 90 artists taking part in this year's first group show.
"We always have a Valentine's Day theme, and this year it's My One and Only," said Featherstone executive director Ann Smith, as she poured wine for guests in the building lobby.
To fit the theme, artists were asked to choose one work that is new, unusual or otherwise unique for any reason, and has never been shown at Featherstone.
"It's a cool picture with lots of detail," said Lanny McDowell of his digital photograph Raven/us, which offers a rare look at the iconic corvid in flight. "I spent a fair amount of time with this particular raven."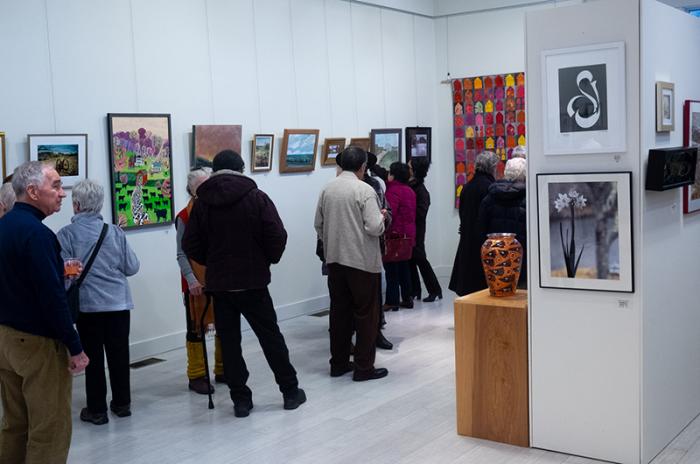 Common ravens, despite their name, are infrequent at these latitudes, but as many as five at once have been spotted on the Vineyard in recent years.
"They're very curious," Mr. McDowell said. "He flew right at me."
In the photograph, which shows the black feathers in detail, the bird's eye is rolled back to look at the photographer as it flies past. Mr. McDowell tweaked the color of the background from bright Vineyard sky to a greenish blue.
"I wanted it to be a little more surreal," he said.
Birdman, a life-sized stainless steel sculpture by Barney Zeitz, has a sadder tale. Mr. Zeitz said he was finishing it on commission for a longtime acquaintance who suddenly died. Forged and welded at Mr. Zeitz's studio outside Vineyard Haven, the figure has an eagle head glaring fiercely from between its outstretched wings. A pair of human legs dangles below the feathered torso.
Richard Limber chose the interactive, backlit painting Crossing because "for five or six years they haven't had any political work in this gallery," he said.
His portrait, in ink on paper mounted in a lightbox, shows a woman clutching an infant, with the words "Gonzalez and her baby Crossing Border Undeterred."
Mr. Limber began working with lighted paintings after being "corrupted by the idea" while making videos, he said.
"The whole idea is to create more drama and to draw people in," he said. A button on the artwork allows spectators to turn off the light and see the difference.
"It's a really modern contraption," Mr. Limber said.
Traditional arts and crafts are well represented in the Featherstone show, which is open daily from noon to 4 p.m. until March 4. Along with paintings, prints and photographs, there are quilts, jewelry, shell art in the "sailor's valentine" style and a dollhouse designed as a "Vineyard Victorian" complete with outdated kitchen.
Made from hand-cut paper, Taylor Stone's March of the Fairies brings a magical illustration to three-dimensional life, framed in dark wood to heighten the forest glamour. Younger viewers will find it especially captivating.
Another work for all ages is John Holladay's pen and ink watercolor Get Out of the Water!, a hyper-busy beach cartoon viewed from above. There's a shark in there somewhere, but it takes some finding.
While many of the works have Vineyard themes, celebrating Island scenes or local wildlife, other artists drew their inspiration from beyond the Island, as in Tom Carberry's ceramic bust of Jimi Hendrix.
The artworks are all for sale, with prices as little as $30 for Flower's Early Spring, a hand-woven necklace by Ellie Bates, and $70 for Debbie Hale's Sengekontacket Casserole Dish to several thousands of dollars for larger pieces.
Featherstone's next community group show opens March 10 with the theme Feather and Stone. Artists may drop off their works March 5 and 6 from 10 a.m. to 4 p.m.
Opening April 7, the Silver and Gold show asks artists to work with "the magical elements of Ag and Au," in any media. The annual Art of Flowers show begins May 12.
Ms. Smith said Billy Collins, former U.S. poet laureate and an Island favorite, is returning for his biennial reading June 9 at 6:30 p.m.
Find out more at featherstoneart.org.