Dressed to the nines, hordes of Islanders and non-Islanders alike came out to the historic Dr. Daniel Fisher House Thursday night for the annual Taste of the Vineyard, a super-sized soiree and smorgasbord that benefits the Vineyard Trust.
Ten minutes before opening, a line longer than the backup at the Edgartown Triangle and colored like a pastel kaleidoscope waited along Main street to get inside the tent for the gourmet stroll.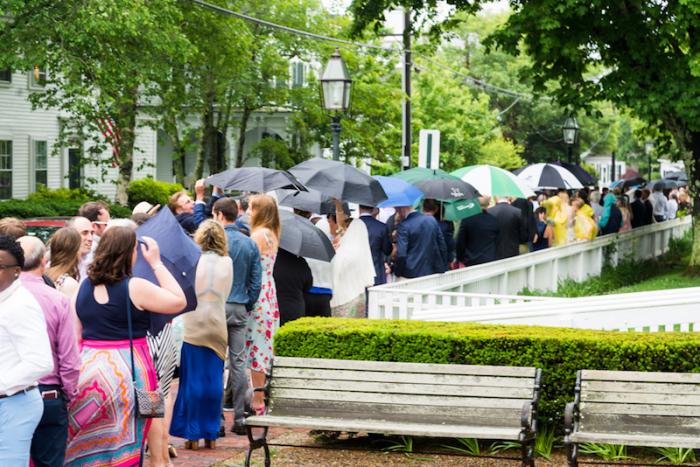 For the ticket price of $175, attendees bespectacled in pink bedazzled sunglasses, orange blazers and Vineyard Vines rain ponchos had the opportunity to sample an unlimited selection of the Island's finest drink and fare. For the first time this year, people could pay $300 to gain access to the tent an hour early, to avoid having to navigate the throngs.
"It went so much better than I could have imagined," said Funi Burdick, executive director of the trust, which owns and manages about 20 historic properties throughout the Island.
The event is a significant fundraiser for the nonprofit trust, and by long tradition, all the provisions for the event are donated by vendors.
The amount raised will be tallied later, Ms. Burdick said.
On a blustery day that had been marked by rain and wind, organizers decided to have guests walk through the Fisher house to get to the tent.
Spicy yellowfin tuna spreads from MV Smokehouse, crab-stuffed zucchini slices from Little Rock Farm caterers, and salmon balls from Herring Run Kitchen tickled the taste buds. Town MV served pigs-in-a-blanket. Menemsha Fish House shucked 2,500 oysters. Edgartown Meat and Fish served steak tips and shrimp skewers. And Lookout Tavern's sushi chef served — well, sushi.
Alchemy moved its Edgartown location one block east to get a booth in the tent and ended up all the way in the Middle East, serving curious eaters mini-pita schwarma bites. Mikado served garlic clams. And Stop and Shop served coffee.
With appetites sated, those who could still move took to the dance floor, grooving the night away to tunes from the Sultans (formerly Sultans of Swing).
About one hour and three plates of seared tuna from the Ocean View into the evening, Wes Calhoun, a 26-year-old from South Hadley who is working in carpentry and commercial fishing on the Island for the summer, summed up his review of the event.
"I think it's a blast," he said. "I wish I could be here every day. I love it. It is very, very worth it."