For the first time in the program's 10-year history, the Martha's Vineyard Regional High School boys swim team won the Cape and Islands League title, breaking school records and qualifying for the state championship along the way.
The victory was preceded a week earlier by a heartbreaking defeat when the team lost by one point to the mighty Nantucket team, who have won the league for the last seven years.
"We knew that we had to keep them fired up, and because it was so close, while it was bitter, it also gave them just enough motivation because they knew that it was close enough that they could do it," Coach Jen Passafiume said.
And they did it, edging out Nantucket for the league championship with a total of 301 points to Nantucket's second place finish of 266 points.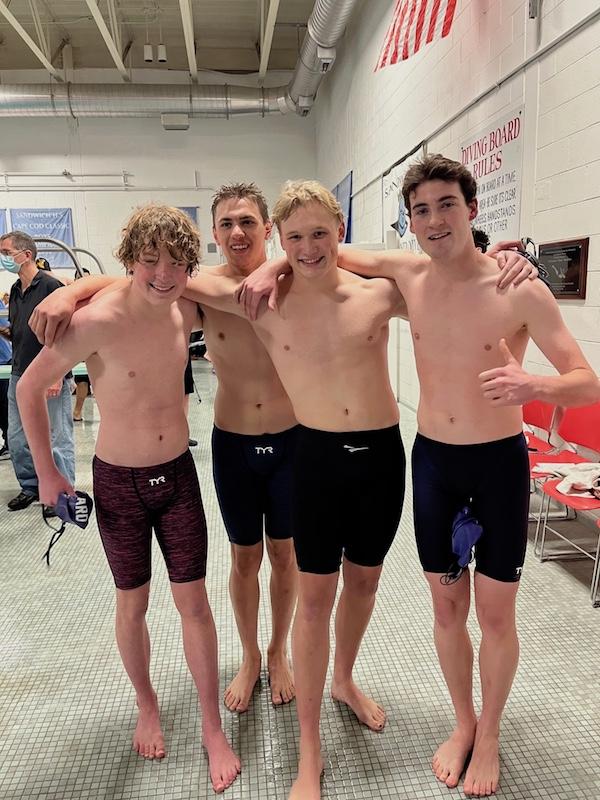 All 13 swimmers scored to contribute to the team point total, which sat at the top of the seven team field. Junior co-captain Christian Flanders dashed to a school record time in the 50-yard freestyle. Senior co-captain Ruairi Mullin broke his own record in the 100-yard freestyle, out-touching his Nantucket counterpart by 0.3 seconds.
The most impressive performance came from the 200-yard relay — consisting of Christian Flanders, Ruaiari Mullin, Emmett Silva and Nathan Cuthbert — which both broke a school record and qualified for states.
"The relay team had been working hard all season to qualify for states," Coach Passafiume said. "And in the last meet, they finally did a state qualifying time."
Coach Passafiume said she knew the team, which is a mix of veterans and newcomers, had the talent to win the league. It was just a matter of bringing it all together.
"Swimming is a team sport, but it's also very individual," she said. "It's just you in your lane in the water, so keeping them psyched up as a whole team can be a challenge, and we were able to do that this year."
Ruairi Mullin and Christian Flanders will swim in the sectional championship at Milford High School on Feb. 12-13. The pair will be joined by their relay-mates, sophomore Emmett Silva and junior Nathan Cuthbert, for the state meet at Boston University Feb. 27. The team doesn't have enough swimmers competing to make a run at the state title, but that's not the focus for Ms. Passafiume.
"All I really care about as a coach when it comes down to that is that they swim the best that they can possibly swim, and I'd really love to see all personal best times at that meet," she said.
The girls swim team also competed in the league championship but is currently the smallest team in the conference, Coach Passafiume said. The team placed sixth out of seven teams. Co-captain Olympia Hall qualified in two events for sectional championships next weekend.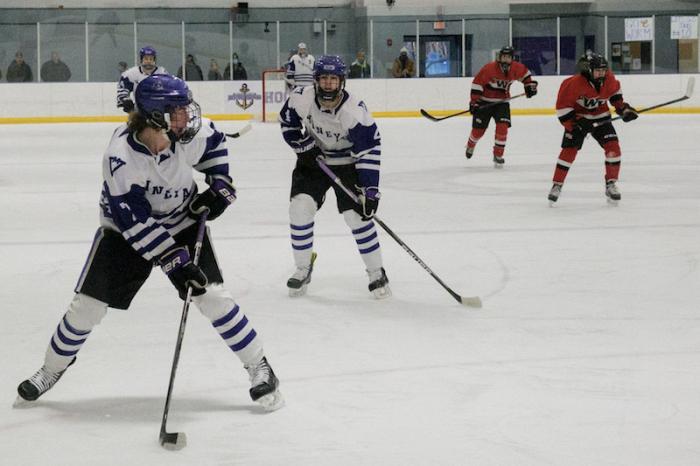 There was also excitement on the ice this weekend as the boys varsity hockey staged a 2-1 overtime win over highly regarded Whitman Hanson High School.
"The maturity of the team is starting to show," head Coach Matt Mincone said after emerging from a triumphant locker room.
Whitman scored first in the second period on a goal by sophomore Alexander Ethier with an assist from senior Sean Doucette and sophomore Luke Tropeano.
The Vineyard tied the game in the third period with a goal by freshman Hunter Johnson assisted by freshman Frankie Paciello and freshman Nate Averill.
Senior Jake Scott made the game-winning penalty shot to secure the win.
"I felt good about the third period [the Vineyard] showed some character at this point in the season," Coach Mincone said after the game. "We kept after it and that's what we said after the second period. We got to keep going and apply pressure and believe in one another, and who knows, opportunities will happen."
On the hardwood at home, the Vineyard girls varsity basketball team lost to Carver High School 25-59.
"We have no seniors on the team, so our big thing is just to work hard from buzzer-to-buzzer, and I think overall this was the best game that we've had in that work ethic," said head coach Melissa Braillard.
Next up for boys hockey will be an away game on Wednesday at Bourne High School. Girls basketball plays at home on Tuesday against Dennis-Yarmouth Regional High School.