Islanders of all ages rallied for peace in Ukraine at Five Corners in Vineyard Haven Saturday afternoon.
The crowd of about 80 people was dotted with blue and yellow signs bearing messages such as "Solidarity With Ukraine." Demonstrators wore blue and yellow clothing and waved Ukrainian flags. Two alpacas from the Island Alpaca farm joined the small throng on a sunny, cold day.
"We're just bringing them out to send a message . . . alpacas for peace," farm owner Barbara Ronchetti said.
The peaceful demonstration was partly organized by Iya Labunka, a West Tisbury resident and Ukranian American who has family members in the now war-torn country.
During a speech to the crowd, she held up a picture of her mother Maria posing with a gun from her time as a member of the Ukrainian Insurgent Army, an underground militia that fought for an independent Ukraine in the 1940s.
"That the last few remaining members of my family in Ukraine are once again forced to take up arms to ward off unwanted invaders, brutal aggressors and occupiers horrifies me," Ms. Labunka said.
A broken heel didn't stop Cliff Freedman from attending the rally. Mr. Freedman, who is 75, said the war is the saddest thing he's witnessed in his life. He is most dismayed by the killing of Ukrainian civilians and feels sorry for the Russian people, many of whom don't support the war.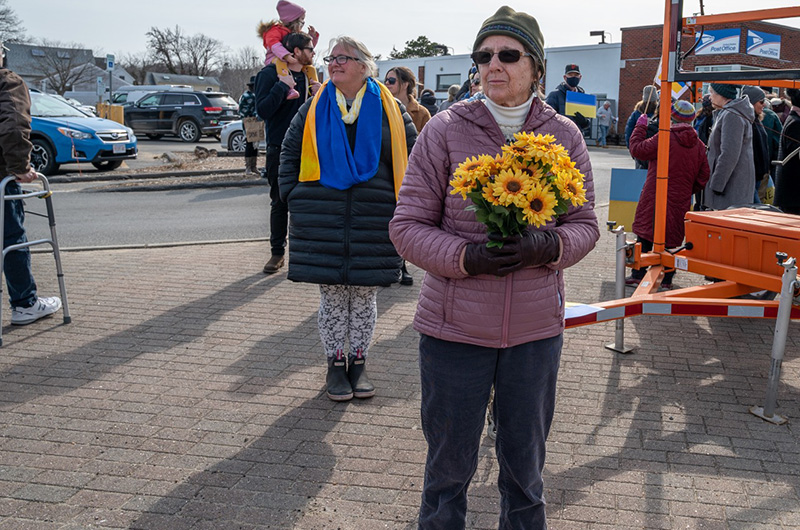 "Inside their hearts they're just like me. They don't believe this should happen," Mr. Freedman said.
Ms. Labunka said there are a number of things people can do to help Ukraine. She encouraged people to contact their elected officials to keep pressure on for more economic sanctions, donate to organizations helping Ukrainian refugees and denounce Russian misinformation as well as the country's crackdown on free speech.
"This will get worse before it gets better, but we must hold steadfast, even in the face of the sacrifices to come," Ms. Labunka said. "The world is watching and our very fate depends on how we act now."