The project to renovate and raise Memorial Wharf in Edgartown is behind schedule and will not be completed by Memorial Day weekend as planned, town officials confirmed Monday.
The completion date is now expected to be the middle of June, Steve Ewing, the chairman of the committee overseeing the project, told the Gazette by phone Monday.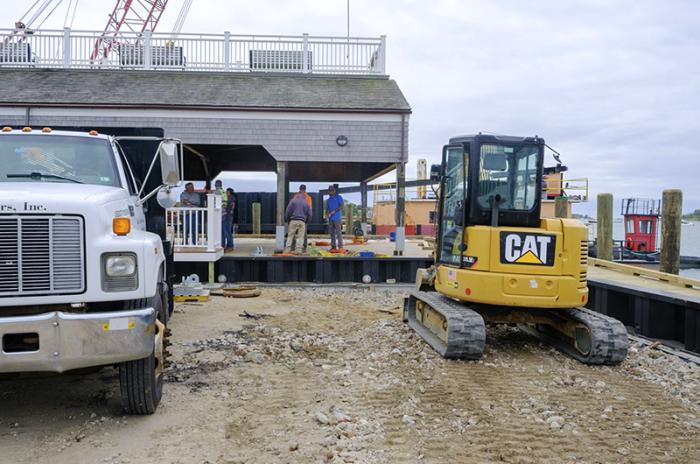 "Two weeks behind schedule, still not the end of the world but we'll try to get it done . . . because obviously the summer is fast approaching," Edgartown town administrator James Hagerty said. "There's a lot of other projects that take a lot more time and are less complicated."
The delay means Friday's march to the sea by Edgartown school children will relocate to the Reading Room dock off Cooke street, Mr. Ewing said.
"They graciously have extended their hospitality to the town," he said, speaking about the Reading Room which is a private club.
The delay will not change the operation of the Falmouth-Edgartown ferry which will begin service in and out of Edgartown this weekend, Mr. Ewing said.
The $4 million project got underway last fall and includes a complete rebuild of the wharf, including raising it by about a foot and a half. The contractor for the project is BTT Marine.
The project's biggest setback came in December when Eversource found a proposed piling to be too close to a bundle of undersea cables which provide power to Chappaquiddick. Work was shut down for a week while the engineers worked with the power company to come up with a solution, Mr. Ewing said.
Since then there have been minor hiccups which added up to the delay, Mr. Ewing said, including unpredictable weather and minor design changes. There was also more rot in some of the poles and steel sheeting than originally anticipated.
"You tear something apart that's old and you find things you couldn't see," Mr. Ewing said.
Repaving the parking lot, new lighting, some reconfigurations on the Chappy ferry side of the wharf and finishing up some of the wharf's underground support structures are all things left to be completed, he said.