Memorial Wharf is open for business again.
The multi-million dollar project to raise the wharf in response to rising seas began last fall and finished up early this month. Originally scheduled to be completed by Memorial Day weekend, the project was delayed by inclement weather, construction hiccups and minor design changes.
"Everything's good, everything's been running on schedule, no problem . . . I'm pleased," Steve Ewing, the chairman of the Memorial Wharf restoration committee, told the Gazette by phone.
The project is part two of a bigger plan to adapt the wharf and its surrounding area to the impacts of climate change, Mr. Ewing said. In 2017 the pavilion was stabilized and restored; future plans include raising Dock street to bring it in line with the wharf.
Although the wharf is now open to the public, there are still some details to smooth out, Mr. Ewing said. Some cosmetic features, like lanterns, are on backorder. The committee is also working with BTT Marine, the contractor, on a long term maintenance plan.
"There's just a few little things that we're tweaking. A railing here or a cleat there," Mr. Ewing said. "And then just like your car, you have to maintain it, so we're going to get a list of all that."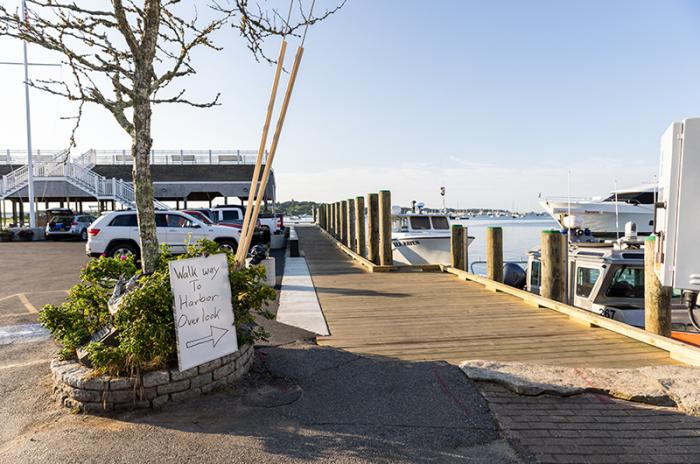 The project's biggest snag came in December after Eversource flagged a piling as too close to an undersea set of cables providing power to Chappaquiddick. Work stopped for a week while the two sides worked towards a solution. Getting the project done within a month of the original target date was a team effort, Mr. Ewing said.
"I just want to thank the town and the taxpayers and the engineers and the contractors and the rest of the committee and the Chappy ferry for all the help working through it," he said.
An open wharf does not mean the return of Tuesday night dances — a staple of Edgartown summers which feature live music and tons of dancing. The Dock Dance Band is working with the town to figure out the best, and safest, way to bring back the annual rite to summer, Mr. Ewing said.
"I hope they can sort it out because I grew up going to dock dances as a kid," Mr. Ewing said. "And it'd be a shame if they couldn't bring those back."