Growing up in Vineyard Haven Ron Borges experienced something many year-round Islanders know all too well: he needed something to do in the winter.
This was Martha's Vineyard in the 1950s, a time when the year-round population was sparse and little was open after Labor Day, Mr. Borges said. His older brother Richard started boxing in college and would teach Mr. Borges while home on break. The sense of control he felt when he slipped his first punch was intoxicating; he fell in love with the sport and found his offseason hobby.
"I was quite convinced I was going to be the next Sugar Ray Robinson. By the time I got to be a teenager I ran into a couple guys who convinced me I was not going to be Sugar Ray Robinson," Mr. Borges said in a recent phone interview with the Gazette from his home in Littleton.
When his fighting dream ended, Mr. Borges, 73, decided to do the next best thing: write about the sport. He became a journalist specializing in writing about boxing for newspapers in Boston and California. Last weekend he was honored by being inducted into the International Boxing Hall of Fame for his 50-year career.
"It was pretty overwhelming," Mr. Borges said of his induction. "You just really don't think you're going to end up in anybody's Hall of Fame for anything. You just hope you have a job."
Looking back, Mr. Borges said he stumbled into his career. He returned to the Island after graduating with an English degree from Brandeis University, figuring he would work construction alongside his dad Jack and write fiction in his spare time. An editor from the Grapevine, an alternative weekly newspaper, heard about his writing background and gave Mr. Borges a call. Manual labor made Mr. Borges too tired to write at night, so he decided to give newspapering a shot.
After a year at the Grapevine, Mr. Borges moved to California where he worked at the weekly Oakland Tribune before moving to the daily Sacramento Union, he said.
"Mark Twain worked at the same paper, so I always felt good about that," Mr. Borges said of the Union.
It was in Sacramento that Mr. Borges discovered the boxing beat, he said. He was assigned a story about a fight promoter named Sid Tenner. He went to the gym where Mr. Tenner worked only to find out Mr. Tenner was not there. It turned out he was at a poker room where he worked in addition to promoting fights.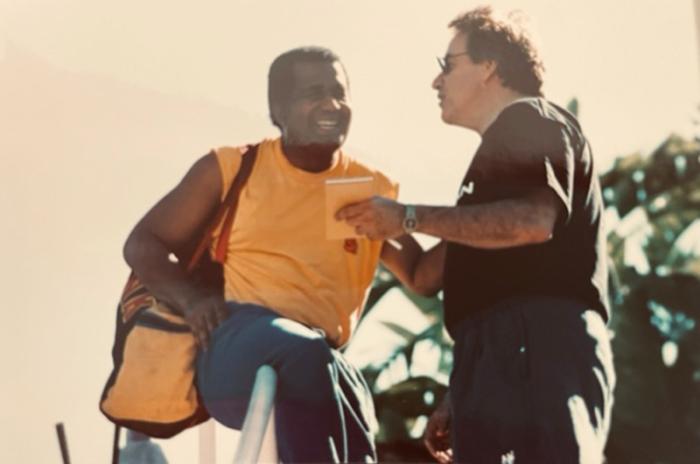 When Mr. Borges pulled up to the poker room he found Mr. Tenner outside, chomping on a cigar next to a pay phone. The pay phone never stopped ringing, which made for a disjointed interview because Mr. Tenner picked up each call. Up to that point Mr. Borges knew he loved the sport; now he knew he wanted to write about it for a living.
"I immediately said, boy this is the place for me," Mr. Borges said. "The characters, the people, it's never ending. I've done it for 50 years and there's as many characters today as there were when I started out."
After California, Mr. Borges moved closer to home to work at the Boston Globe. During his 24 years at the Boston Globe he covered Super Bowls, the World Series and the Olympics. But nothing beats boxing, he said. Part of it is the oversized personalities, but he also said it is because boxers are honest.
"Part of the reason they seldom lie is the very nature of their work," he said. "You're totally exposed in your undershorts standing in a boxing ring with no door to get out. The truth is right there in front of you, between you and the other person."
Mr. Borges worked at a time when the best boxers were ubiquitous celebrities, he said. Now the average person could not tell you who the current heavyweight champion is, he feels. But Mr. Borges said his passion for the sport has not dimmed despite its waning popularity. He oversees referees and judges during fights as a supervisor for the International Boxing Organization. The job means he has left press row but remains ringside.
"It's interesting being on the other side of it as opposed to just the journalistic side," he said. "We think we know the whole story, and what I've found out is we know about half the story if we're lucky."
The induction ceremony felt like stepping back in time, Mr. Borges said. Thousands of the sport's die-hard fans came from around the world for the weekend of festivities. As a writer Mr. Borges grew accustomed to elbowing his way through throngs of autograph-hungry fans to grab a quote from a fighter. Now Mr. Borges was the one getting ambushed.
"For this little brief weekend . . . I couldn't go from point A to point B without being asked, could you sign this, could you sign that?" he said.
The weekend made Mr. Borges reflect on his journey, he said. In looking back he found wisdom for Island kids wondering what the future may hold.
"Any kid driving around West Chop on a February night wondering what can I do? I was that kid, so you can do whatever you want," Mr. Borges said. "You can go a lot further than you think if you're willing to fight. You gotta be willing to fight for yourself."