Dairy Queen reopened Friday to a line out the door, ending a months-long ice cream drought in Edgartown.
The beloved outpost on Main street typically opens its doors at 2 p.m. to give workers time to bring the blizzard machines out of hibernation before the after-school rush. This week, the first time in recent memory that the store has opened during school vacation, employees chose to open early around 1:40 p.m. after a crowd had already started forming.
"In the past we had a lull," owner Max Celeste explained between orders. "But it has not stopped."
Twenty minutes into opening, the room had filled with the delighted shrieks of children, the resigned pleas of parents, and the endless, industrious whir of the ice cream blender. Behind the counter, four DQ employees worked through the hubbub as a well-oiled machine, scooping, blending, dipping, and sprinkling each order. The line moved quickly, and no blizzard went unturned.
"It's gonna be chaos for the whole day," Mr. Celeste said.
Two girls, Layana, 7, and Kylee, 7 and a half, bounced in place as they awaited their turn at the counter. The pair had been coming with their mothers to opening day for as long as they could remember, but neither had ever seen it so busy.
"The whole town's here," Kylee exclaimed.
A curious outlier among the multitude of mom-and-pop ice cream shops on the Island, Dairy Queen has reached honorary local status after more than 50 years in business. Its establishment predates the Martha's Vineyard Commission and the "Sack the Mac" protests that ensured fast-food rival McDonald's would never raise its golden arches over Vineyard soil.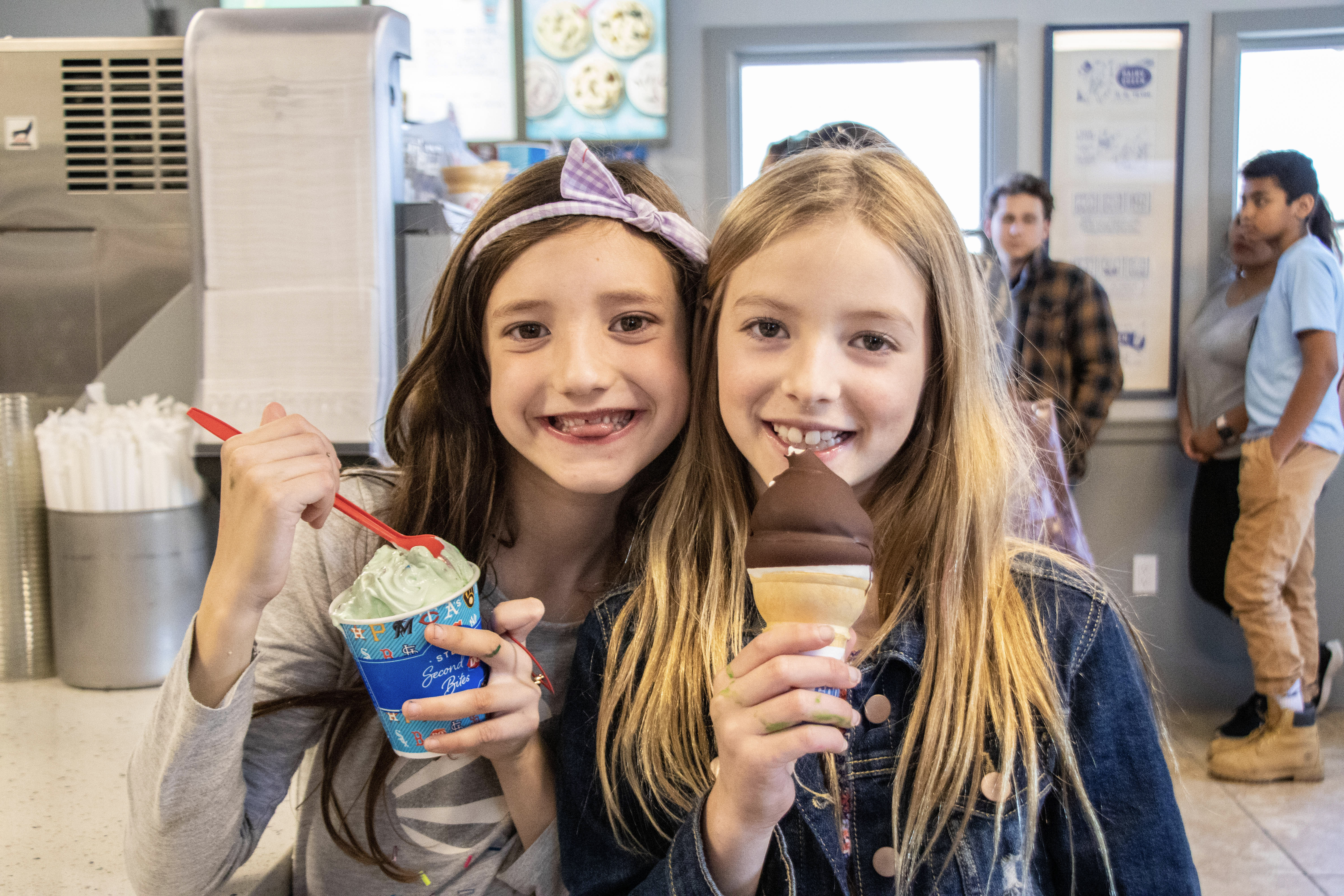 When Mr. Celeste took over management in 2017, he promised he would run the institution identically to the Bettencourts who had stewarded over the ice cream haven for decades. The only sign that the DQ has changed with the times is its ever-evolving seasonal menu and a small, shoebox-sized freezer compartment of dairy-free options.
Racing out the door for the first lick of DQ is a time-honored tradition for Edgartown School students, and kids seemed just as happy to drag their parents along during break this year. Outside, a group of spring break campers from the Martha's Vineyard Boys & Girls Club took up several picnic tables to enjoy their tuxedo swirl cones.
"I was a club member when I was a kid, and I remember coming down here every year on opening day," club program director Kendall Robinson said. "We normally take the after-school group, but this year we got to take the campers."
The sun was bright, and the line showed no sign of abating. Even after receiving their orders, customers had no time to waste. It all could melt at any moment.