The Vineyard Gazette won 39 awards for excellence in journalism and photojournalism this year from the New England Newspaper and Press Association, including top prizes for environmental reporting, photography and multimedia storytelling.
The awards were given out at the press association convention held in Boston over the weekend. The newspaper captured 10 first-place awards and a special award for business innovation. The Gazette's coastal pond series continues to earn top recognition, winning first place in the environmental reporting category. Last fall the series won a prestigious Publick Occurrences Award, a prize awarded annually by the press association for outstanding journalistic work by a newspaper. The series was written by Alex Elvin and photographed by Timothy Johnson.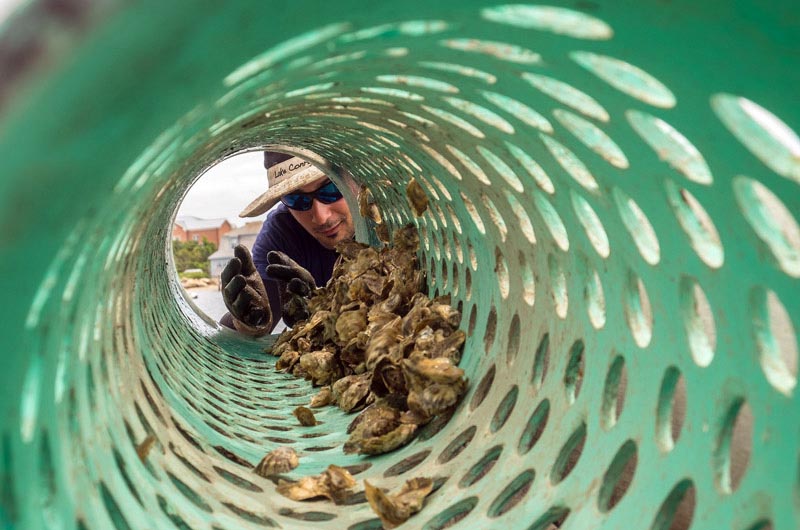 Bill Eville won first place for his personality profile of Carly Simon, and Julia Wells and Alex Elvin won first place in the general news category for their coverage of the community flap over the Martha's Vineyard Film Festival's plans to relocate to West Tisbury last year. The Gazette also won a first-place prize for its multimedia story about Dan Sternbach's ancient grains project in West Tisbury. The story was written by Alex Elvin with video shot by Sophia Tewa, a visiting multimedia journalism fellow at the Gazette last year. Judges singled out Ms. Tewa's videography work as outstanding. "This is the level of creativity and production quality that is required if newspapers truly want to tell great multimedia stories. Excellent!" they wrote.
For the second year in a row Gazette photographers earned top recognition for their work. Mark Lovewell won three first-place prizes, for general news (a picture of the Martino brothers's Cottage City oyster farm), personality (a picture of Francois the tailor) and portrait (a picture of Livingston Taylor). Jeanna Shepard won first place in the photo story category for her pictures taken during a day aboard John Potter's fishing vessel Skipper. In all, there were 12 photography awards.
The Gazette won first place in the food page category for a page that featured a column by Chilmark farmer and chef Chris Fischer. Judges cast a humorous eye on the piece: "The reader starts with a story about geese and ends up with a recipe for lobster!"
The newspaper also won first place for the design of its Real Estate Yearbook, published annually, and won a special business innovation award for offering advertisers the ability to create two-page spreads in the oversized broadsheet.
There were 28 other prizes awarded across print and digital platforms, including second place for the website, for front page, editorial page and editorial writing.
The Martha's Vineyard Times, a weekly newspaper that competes with the Gazette, also won numerous awards.