Tower Hill cemetery sits at the end of a dirt road, a short distance off Katama Road near Katama Bay in Edgartown. It is a tranquil place that contains snippets of Martha's Vineyard history that may rival any other plot of land on the Island.
Buried here are revolutionary war heroes, influential pastors, founders of many Island institutions: Nortons, Daggets, Coffins, and many more. While some are well documented scions of Island history, others would be forgotten, except for the simple stones.
"Here lyes Buried ye body of Mrs ANNA BUTLER Wife to Mr THOMAS BUTLER Aged about 51 yrs Who departed this Life Octr 1, 1733," reads one old gravestone, in the now curious punctuation and spelling of the day.
"The graveyards are a window into the past," said Elizabeth Villard, Edgartown cemetery commissioner. "There are people in this graveyard who really have no other existence. Maybe there's reference in the vital records but sometimes there isn't. Maybe there's a reference in Banks. But basically what we have is a gravestone. I'm a history geek. I find that incredibly exciting."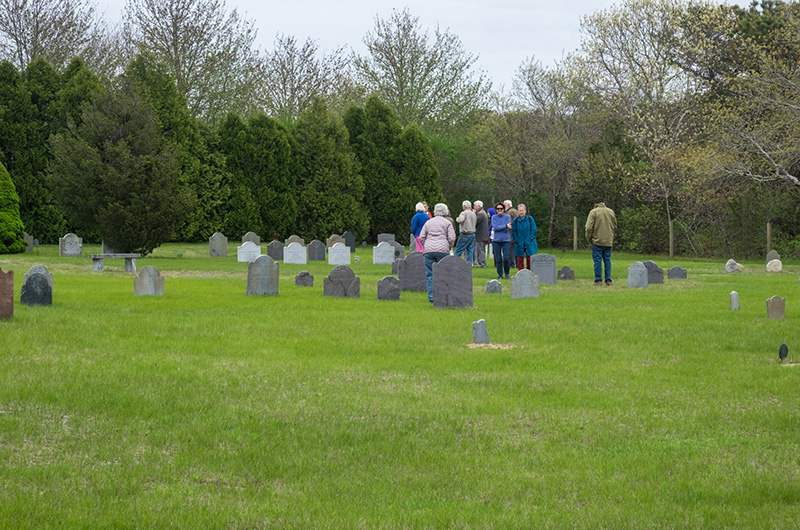 Ms. Villard, with the help of several volunteers and gravestone restoration specialists, led a three-year effort to restore the 18th and 19th century gravestones at Tower Hill Cemetery. At a dedication ceremony May 18 she thanked the volunteers, and credited some amateur historians of the past for help in sorting out the historical mysteries of the site.
In 1849, Island resident Richard Pease recorded by hand the inscriptions on all the gravestones. Nearly 50 years later, his daughter Harriet Pease continued the project, correcting and transcribing his work. Along with newspaper articles from early editions of the Vineyard Gazette, missing and unreadable stones were able to be restored or replaced.
"You put those together and you begin to know what the gravestones say," Ms. Villard said. "There are some very brand new ones. It was restoration when we could, replacement when necessary."
Funding for the restoration and documentation of the stones was possible thanks to the bequest of two summer residents who later moved to the Island full time and died in the 1980s.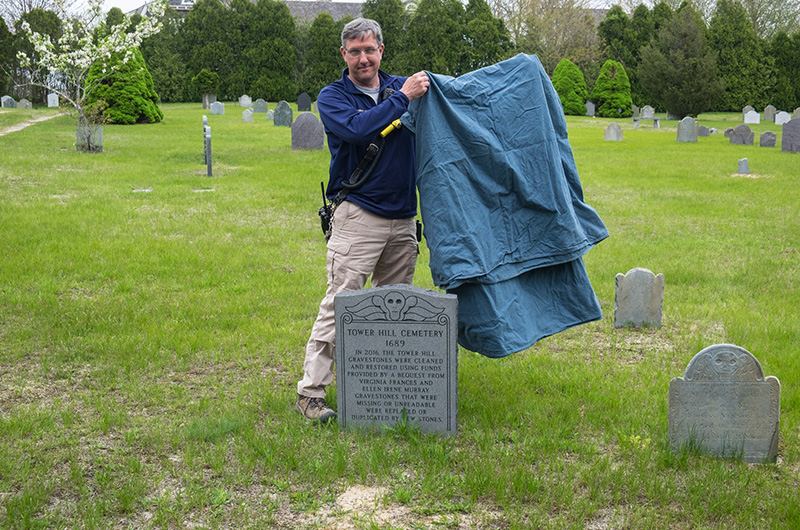 "Two sisters, Ellen and Virginia Murray," said Ms. Villard. "They were summer people, they were twin sisters. They left their estate to the good causes of Martha's Vineyard. One-sixteenth went strictly to the restoration of gravestones out here."
A stone commemorating the women's contribution was unveiled at the dedication ceremony.
In contrast to the centuries old inscriptions on the stones, documentation of the cemetery has taken a decidedly modern twist. Each stone is documented with a picture and a copy of the inscription on a section of the town website.
Included are lists of plot owners and burials, as well as a guide to locating individual gravestones with a new numbering system.