Just as soon as I planned my annual August grab-bag menu challenge, the refrigerator broke. The same day a long-awaited new water heater showed up, along with the installer, who regretted to inform us we'd be without hot water for a day (or two, as it turned out). Our internet and cell service, both of which had been heading towards oblivion all summer, were threatening to expire altogether. This made contacting the fridge repair folks difficult. When the smoke signals finally got through, the message back was clear: You're on a very long waiting list.
Oh, I also got stung by a bee — on my eyelid.
But I deserved it, and heck, the rest of this stuff was really no big deal in the scheme of things. We filled coolers with ice for some of the perishables and the fish I'd just bought (of course) and resolved to finally buy that second refrigerator for the basement — once we could clear a spot through the years of detritus piled up to make room for the new water heater.
Meanwhile, I had been out dreamily shopping my way through farm stands to amuse myself with this menu challenge. The idea is that I take whatever I find captivating on a given day of marketing and turn it into a meal (for friends, normally, for the two of us this year). I get to use stuff that's growing in the garden, too, and any random leftovers from last week's CSA share.
Yes, I basically make up the rules. And there is no judge here on Vineyard Chopped, but for the person I feed regularly who seems to be grateful for just about everything put in front of him, so what does he know? Honestly.
And this year I cheated because I didn't wind up using everything all at once in one meal. (Spoiler alert: the garlic "pop rocks" from Mermaid Farm and the gorgeous fresh oyster mushrooms grown by Dylan Hausthor in Edgartown did not make it into the main menu.) I'm sorry, it was just too hot!
But I wasn't cheating while I shopped — I didn't design the meal in my head as I was driving around. At every stop, I just let my eye wander to what looked fresh and appealing. And fleeting. I started at Net Result, where the black sea bass got my attention since I had just read in the Gazette that the commercial sea bass fishing season had been extended. Plus, I couldn't remember the last time I'd cooked black sea bass. In fact I'm pretty sure that I've eaten more sea bass than I've cooked.
Eons ago, I used to frequent a New York neighborhood restaurant called the Noho Star, and every time I went there I ordered a whole deep-fried sea bass with a ginger-soy-scallion dressing. I just remember how incredibly satisfying the dense, rich white flesh was, so excruciatingly perfect with the bright flash of ginger — and that crispy skin. (Black sea bass, sustainably fished up and down the Atlantic coast, are bottom feeders and their diet of crustaceans makes them mighty tasty.)
The Net Result actually had some beautiful whole sea bass in the case, but I was not in the mood for deep-frying (especially with our current kitchen situation, which even on a good day is less than ideal) or even stuffing and grilling.
I settled on some lovely filets, skin on, with visions of crispy skin.
I can pretty much sum up the rest of my shopping — at farm stands around the Island — with one word: color. I have a bad habit of letting color lead me around. Sometimes that means an all-pink flower arrangement; other times it means my socks have to match my tee-shirt. But this summer, it means I'm completely fascinated with shades of purple and dark, forest-y green.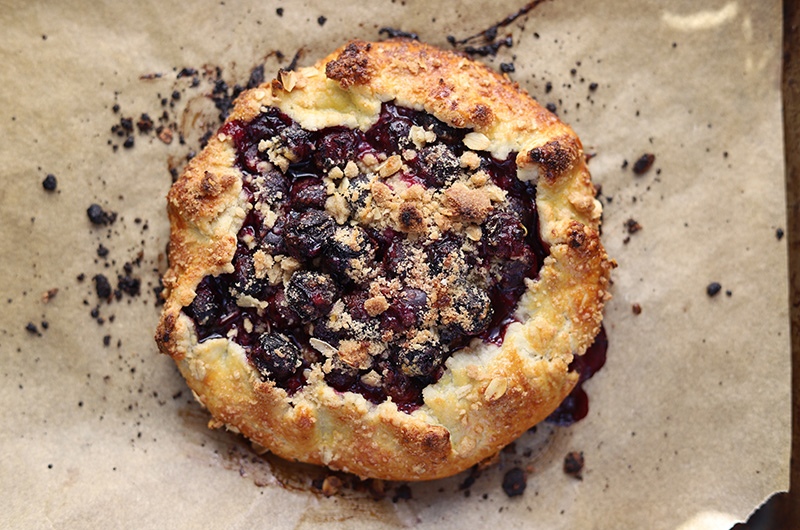 My favorite herb, Thai basil, has inky purple stems and purple flowers, which contrast with the emerald green leaves. This year I am growing a new purple bean from Burpee called Purple King that is simply astonishing in its profusion. As the vines accelerate towards fairy tale-territory, a canopy of green leaves, rosy flowers, and flat burgundy-purple beans is taking over the garden.
At Morning Glory it is purple pepper time — hurrah. And Fairy Tale eggplants — those cute purple-and-white-stippled creamy white-fleshed fruits that I used to grow back in the day — are in. Nostalgia is second only to color.
I had purple potatoes from my North Tabor Farm CSA and purple-tinged garlic bulbs I picked up at both Ghost Island and Mermaid.
And the purple prize: a pint of late blueberries found on the porch of the Mermaid Farm stand.
Back home, the dessert decision was easiest to make first: a rustic blueberry tart, of course, with (melted?) vanilla ice cream.
And all those lovely purple vegtables? Sadly, I knew they would lose most of their color in cooking, but I didn't care. Glancing at everything strewn across the breakfast table (why bother to put anything in the warm refrigerator or risk soaking them in the melted ice in the coolers?), I thought first about ratatouille. Hard not to with all those eggplant, peppers, onions, garlic, and of course random tomatoes hanging around. But I really wanted Asian flavors with that sea bass, and I had happened to grab a knob of very fresh, juicy garlic at Morning Glory.
I decided to use the method for oven-roasted ratatouille but to fold in chopped garlic, chopped ginger, a little lime zest, some crushed green coriander seeds (all over my garden on my bolted cilantro plants) and a smattering of chopped mint, basil, and Thai basil after cooking. I even managed to get the purple potatoes into the mix, diced very small so that they'd cook in the same amount of time as the other vegetables.
This jammy and flavorful vegetable mélange, which I used as a base for the fish, came out great, so I'm happy to recommend it to you for any summer meal, as it can be served warmish as well as hot.
I used my favorite fish-cooking method (sear-roasting) for the sea bass filets, frying them skin-side down in a little butter and olive oil to crisp up the skin first, and then putting the whole pan in the oven to finish cooking the fish by roasting (total cooking time only 10 minutes). I ignored the internet, which told me to make deep slashes in the skin so that the fish would not curl up. I might not ignore that advice next time, as my skin was only crisp around the edges. However, the internet also wanted me to flip the fish and finish cooking on the stovetop, but since the filets were relatively thick, I opted for finishing in the oven, and I liked that result.
After arranging the cooked filets on a bed of the vegetables, I added a bit more butter, chopped garlic, chopped ginger, and lime zest to the frying pan, swirled that around and drizzled it on the fish and veg. Topped with some more herbs.
Despite the oppressive humidity, the broken appliance situation, and the current clutter of our domicile, its inhabitants — after this meal — declared August eating on the Vineyard to be as good as it gets. We may even take the challenge again next week.
To get the full recipes for Rustic Fruit Tart and Sear-Roasted Black Sea Bass with Ginger-Garlic Butter and Roasted Vegetables, visit cookthevineyard.com and be sure to subscribe to the free weekly newsletter.